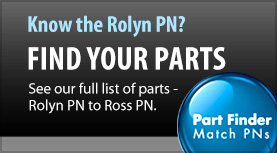 Rolyn Optics Part Matching
Don't think you need to redesign or settle now that Rolyn Optics has gone out of business. Ross Optical carries many of the Rolyn standard optical parts that you rely on.
The list below shows one-to-one match-ups of Rolyn Optics part numbers (PN) to ours. Simply find your Rolyn part number and add it to a quote. With our extensive stock and competitive pricing your production won't skip a beat.
---
Request a Quote
Micro Optics - Achromats
Micro Optics - Plano Convex
Micro Optics - Bi-Convex
Simple Lenses - Plano Convex
Simple Lenses - Bi-Convex
Simple Lenses - Plano Concave
Simple Lenses - Bi-Concave
Doublets and Triplets - Standard Achromats